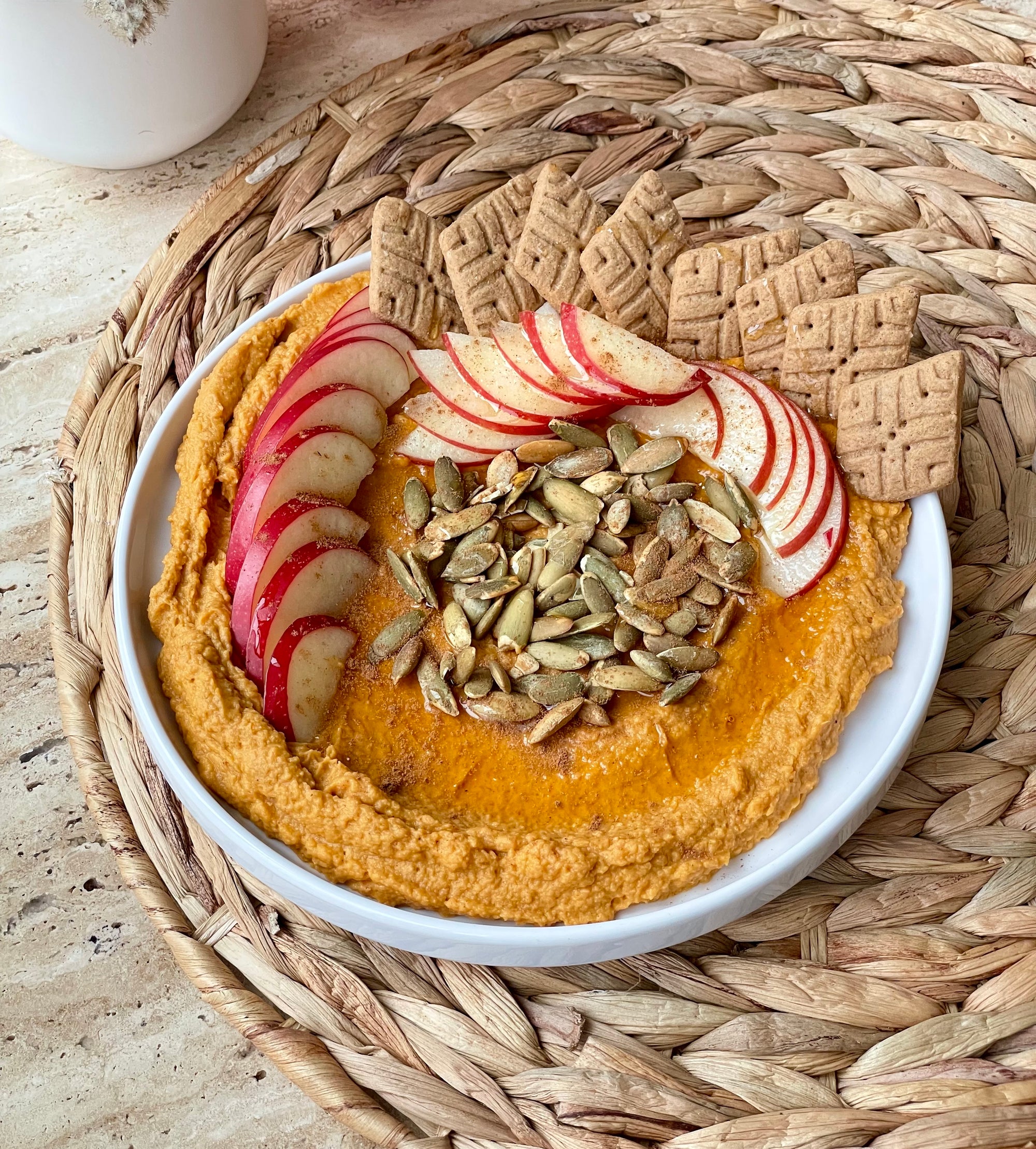 Pumpkin Pie Hummus: A Guilt-Free Treat That's Vegan, GF, and Utterly Delicious!
Are you a fan of pumpkin pie but looking for a healthier, anytime-snack version? Look no further! This Pumpkin Pie Hummus is not only incredibly tasty but also caters to a range of dietary preferences - it's gluten-free (GF), vegan, and packed with the comforting flavors of autumn. Whether you're a hummus enthusiast or a pumpkin pie devotee, this recipe is a delightful fusion that's sure to impress.
Ingredients:
1 can of chickpeas, drained
1.25 cups of pumpkin purée
1/4 cup of cashew butter
1/4 cup of maple syrup
1 tsp of vanilla extract
2 tsp of pumpkin pie spice
A dash of salt
Preparation:
Making this hummus is as easy as pie! Simply:
Blend Ingredients: Combine all the ingredients in a blender or food processor. Blend until smooth and creamy. The key is to get that perfect hummus consistency - not too thick and not too runny.

Taste and Adjust: Give it a taste! You can adjust the sweetness or spice level according to your preference. A little extra dash of pumpkin pie spice or maple syrup can personalize it to your taste.

Serve and Enjoy: This hummus pairs wonderfully with a variety of dippers. Apple slices, graham crackers, or even just a spoon - it's delicious however you choose to enjoy it!
Why You'll Love It:
Health-Conscious: Gluten-free and vegan, this pumpkin pie hummus makes for a guilt-free snack or dessert that doesn't compromise on flavor.
Seasonal Delight: Embrace the essence of fall with pumpkin purée and pumpkin pie spice, bringing those cozy, warm flavors to your snack time.
Versatility: It's a great addition to a brunch spread, a novel dessert at your next dinner party, or simply a tasty treat during a movie night.
So, next time you're craving something sweet but want to keep it healthy, whip up a batch of this Pumpkin Pie Hummus. It's a delightful twist on traditional hummus and a testament to how versatile and fun healthy eating can be. Enjoy this mouth-watering treat and let the flavors of fall dance on your palate! 🧡