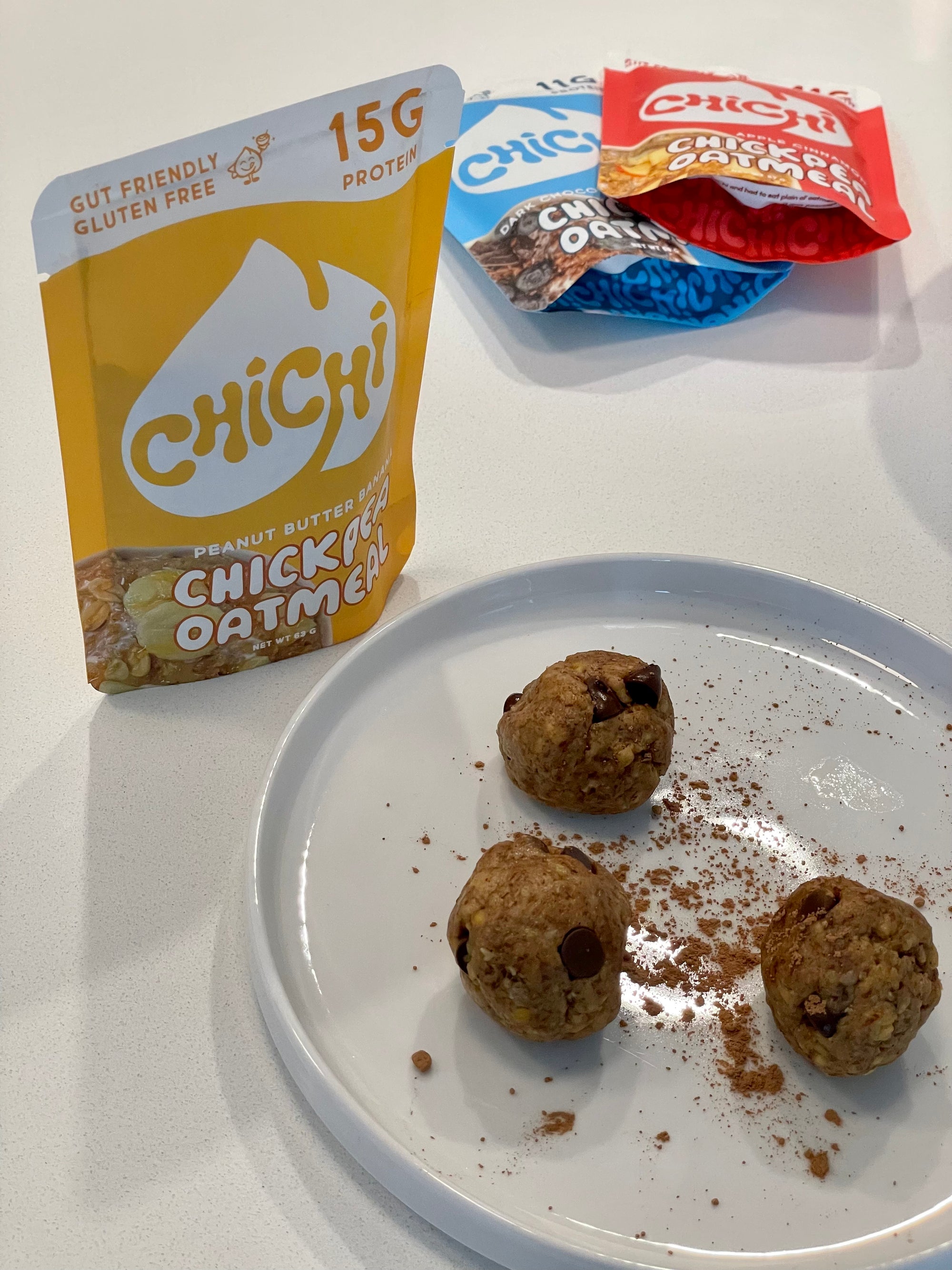 Chickpea Energy Bites: PB Banana Banana Chocolate Chip
In need of a quick, healthy snack that's not only delicious but also gives you an energy boost? These gluten-free Peanut Butter Banana Chocolate Chip Energy Bites are just what you need! They are perfect for a mid-day pick-me-up, a post-workout snack, or even as a delightful treat for kids. And the best part? You only need four simple ingredients to whip up these little bites of joy.
Ingredients:
2 packets of cooked peanut butter banana ChiChi
2/3 cup of peanut butter, heated until runny
1/2 cup of ground flax seeds
Optional (but highly recommended) chocolate chips
Preparation:
Creating these energy bites is a breeze:
Mix the Base: In a bowl, combine the cooked PB Banana ChiChi, runny peanut butter, and ground flax seeds. Mix them well to create a consistent dough.

Chill the Dough: Once mixed, refrigerate the dough for about 10-20 minutes. This step is crucial as it helps in getting the right consistency for rolling.

Add Chocolate Chips: After chilling, fold in the chocolate chips. These add a delightful sweetness and texture to the bites.

Roll into Bites: Take the dough and roll it into small balls. The size can be as per your preference, but bite-sized is usually perfect.

Enjoy: Your Peanut Butter Banana Chocolate Chip Energy Bites are ready to be enjoyed!
Why You'll Love Them:
Healthy and Nutritious: Packed with the goodness of peanut butter, bananas, and flax seeds, these bites are a great source of energy and nutrients.
Convenient: They are super easy to make and can be stored for a quick snack anytime.
Kid-Friendly: Their delicious taste and bite-sized form make them a hit among kids.
Versatile: They are perfect for various occasions, be it a quick snack at work, a post-gym recharge, or a healthy treat for the kids.
These energy bites are a testament to how healthy eating can be both simple and scrumptious. The combination of peanut butter, banana, and chocolate chips is a classic one that never fails to delight. So, next time you're in need of a quick, nutritious snack, give these Peanut Butter Banana Chocolate Chip Energy Bites a try – they're sure to become a new favorite!